Richelle Beene and Norb Renn own the ranch together. They bring a variety of knowledge and techniques for training and caring for horses together. Richelle being of a show background and having the privilege of working with many great horse trainers including Lynn Palm, Richard Shrake and many other trusted & admired horsemen and horse women. Richelle holds her judging cards for POA, 4-H and WSHC. Norb brings his experience of being a top notch roper and having won numerous titles and qualifying numerous times for the USTRC. He can help you get started roping and finding that rope horse with all his knowledge and experience with Roping and Team Penning.
| | |
| --- | --- |
| Richelle & Duke Mac Master | Norb Renn holding our son Ashton on King |
We offer two boarding packages. Outside board for the horse that prefers to live outdoors. Includes hay and a 3 sided shelter shared with other horses similar. We divide horses into groups of young horses, mares, and geldings. The cost for outside board is $250 per month. If you prefer your horse to have a stall the cost is $400 per month in our lower barn and includes hay & daily stall cleaning, and daily turnout with water and hay in one of our turnout paddocks. If you prefer we offer limited boarding in our heated show barn for $450 per month.
Our Program

Richelle offers private and group lessons for beginners thru advanced. She will start you out private and when she feels you are ready for a group, she will move you into a group based on your skills. Western and Huntseat styles are available. Just for fun riding or the serious show competitor, she can take you to the level you wish to be.
| | |
| --- | --- |
| Siobhan riding Sammy Huntseat | Grant & DC Color Breed Congress 2011 |
Always wanted to own a horse, but can't make the commitment. Why not Lease a horse and ride as often as you want without the responsibility that comes with owning one. We are here to assist you and introduce you into what is involved in owning a horse without the big financial commitment right away. Or not sure you want to purchase that special someone right away, but don't want anyone else to buy them before you can decide, then lease with a buy option! Call for details. Choose from many of our well schooled lesson and trail horses. $300 per month plus farrier expenses. Show horses are $500 per month and will have a stall available to them. Lessons will be required weekly when leasing one of the show horses.
That Krymsun Look 2011 Congress Reserve Champion
Training for that special horse. We offer basic training skills for your horse thru advanced specialized disciplines. Whether it is a trail horse, or serious show prospect let our experience work for you. We use many of the techniques you see and read about from the natural horsemen. Many years experience and the opportunity to work with several of the finest trainers in the nation are to your benefit. If you need a young horse started or just a tune up this is where you want to be. Training packages $650 per month outside board or $750 per month including a stall and daily turn out. Richelle will take your horse to the show pen if you can't or instruct you with your horse. Let her come up with a custom program for you and your prized horse and help make you the best team you can be!
| | |
| --- | --- |
| Roundpen training | Starting under saddle |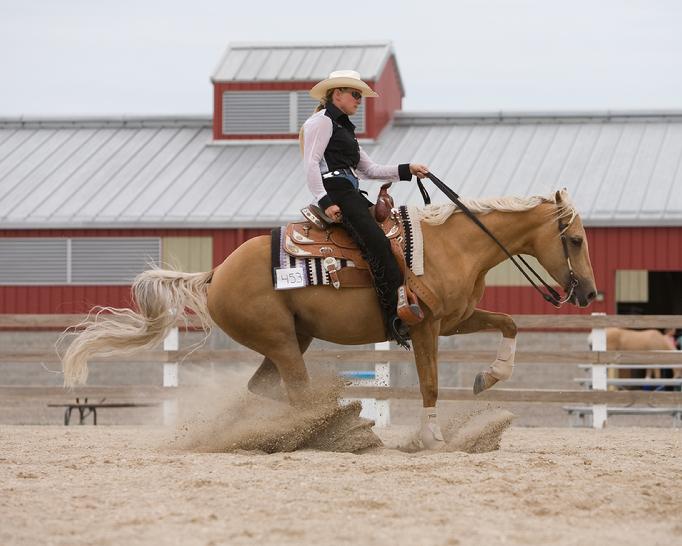 Hazel Rey Lena the finished product!
| | |
| --- | --- |
| Hewey ready to pick up a sleigh ride!! | Karma & Smoochy sleeping |
| | |
| --- | --- |
| Mama & Baby at Minocqua doing carriage | PHBA World Show 2012 |
Barney & Hank
We have three beautiful Draft Horse Teams that do Sleigh and Wagon Rides. They are available on premises or will travel for Special Events. Call for availability and Pricing. They will be seen thru the winter months giving sleigh rides.
COMPANY PARTIES WELCOME!!!!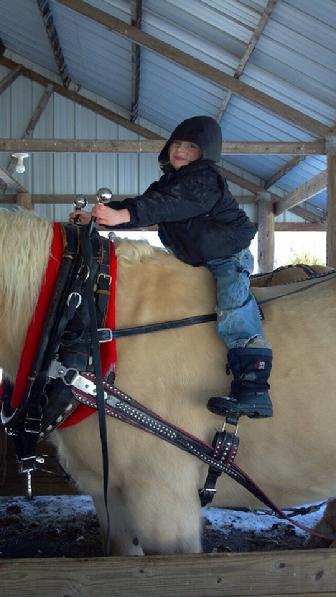 Ashton helping with Pat
3 Full size sleighs available pulled by Beautiful Belgians, Percherons or our Cydesdales. $150 per sleigh. Bonfire with Hot Chocolate available! Maximum of 14 Adults on a sleigh! A smaller six passenger sleigh is also available for $100. Call for availability and to make a reservation or email us here or message us on Facebook or Google!

| | |
| --- | --- |
| Bring that little one for a pony ride on one of our gentle horses. We lead them in our arenas by experienced staff. Helmets are required. $15 per rider approximately 10-15 minutes. | Ashton Renn aboard Black Beauty |